The "100 days of summer" is the time frame leading up to and running between the US Memorial and Labor Day holidays and is traditionally busy for the HVAC, Refrigeration, and Food Service/Beverage Trades. The higher temperatures directly translate into more wear and tear on equipment and building systems - and the urgency to resolve issues quickly is ramped up as foot traffic increases.
Summer Sore Points
Our Trade Specialist team estimates that over 50% of all mechanical, refrigeration and energy equipment isn't running as efficiently as possible on any given day. Tack on sizzling summer heat and the issues with these items quickly become problematic, disruptive, and more costly to a business to resolve. Summer time is prime time for dealing with issues on equipment that have direct downstream impact the the customer's experience and a sites profitability:
HVAC & Climate Systems - On hot days, customers will be deterred from coming in (or leave) when a location is uncomfortable - or downright unbearable

Depending on the outside temperature and your site's natural ventilation, this can also escalate to a health and welfare issue to both visitors and onsite staff

Hot air within a site also forces other onsite equipment, particularly refrigeration equipment, to work harder, potentially triggering cascading equipment failures the longer HVAC/climate control systems are down

Refrigeration Equipment and Freezers - Refrigeration equipment issues can literally ruin products - or impact the salability of products

Whether the equipment is in the front of the house (reach-in coolers, beverage caves, and other display cases) or in the back-room (storage areas)

Ice Machines - Selling any form of iced beverages is a non-starter and directly leads to lost revenue if your ice machines are unavailable
Parts and Technicians for all of the above equipment - Finding either the parts needed to complete repairs or qualified will be challenging and cause delays

On top of that, unless you've secured agreements with suppliers in advance, will be very expensive
---
Is the summer all doom and gloom?
Not quite, with some planning and a reliable partner
Vixxo works closely with both our clients and technicians well in advance of this busy season to make sure there is an acute focus on how to best manage through the summer, especially when it comes to their climate control systems, HVAC, and refrigeration equipment.
For our clients, we stress three main tenets and areas to pay careful attention to:
Prepare. With our clients, preparations are built into their overall planning for the year. This entails developing a Preventative Maintenance schedule that is executed before the summer and winter seasons. Even so, issues still happen and often at the worst times, requiring reactive maintenance.
Re-prioritize. When summer hits, taking a more tactical approach can guide you through what needs to be done. Prioritizing reactive HVAC and Refrigeration work orders above other non-mission critical issues is one approach that ensures core revenue generation activities are still able to take place.
Communicate. Putting an acute and extreme focus on communications within the company during these busy seasons can also ensure that all teams stay informed as issues are identified. This also allows for best practices to emerge, equipment-sharing processes to develop, and near-site sharing of resources (for example, extra walk-in cooler or freezer space allocations) for critical downtime that risks product spoilage.
With our network technicians, it's an exercise in making sure preparations are made to ensure they are positioned to respond quickly. The completion of any given service request is an exercise in coordination, and in the 100 days of summer, active and seamless coordination is needed to keep customers' doors open. Our service partners and their technicians know how critical this time of year is to clients and ensure:
They have commonly used parts in warehouses and on trucks (compressors, motors, common capacitors, etc.), supply house accounts set-up, and in larger metro areas, parts runners

They are tightly managing team schedules and planning for overflow to accommodate emergency/high priority reactive work

Documentation, operational, and approval processes are refreshed and emphasized
Regardless of whether your employ in-house technicians or use a team of dedicated supplier partners to maintain your equipment, with a solid game plan and acute focus, summer can be a successful season with few interruptions to service.
---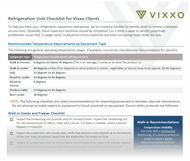 Download our Refrigeration Checklist today!
Sharing Our Expertise and Accumulated Learnings:
Refrigeration Equipment Inspection Checklist
If you were not aware, Vixxo has a Trade Specialist team comprised of former technicians, contractors, and other industry experts. This team provides expert recommendations on a wide variety of maintenance topics, such as:
Improving first-time fix rates

Accurately diagnosing equipment failures

Using facility data to empower maintenance programs

Identifying ways to gain cost savings
Our Trade Specialists play a big part in helping facility leaders optimize their mechanical, refrigeration and energy maintenance programs by providing technical guidance, quote review, and in some cases, documentation. We invite you to use this checklist for keeping tabs on your refrigeration equipment in between service visits.